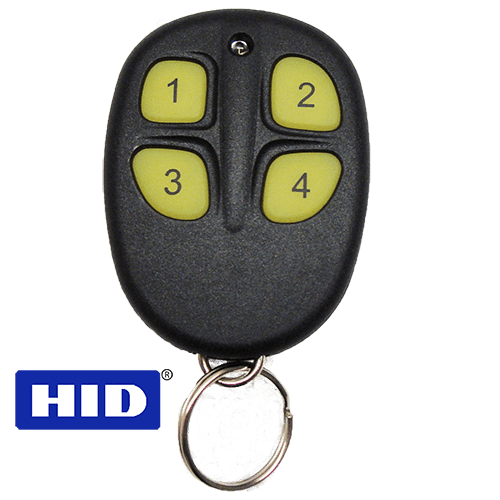 Titan MegaCode Compatible w/HID
$25.75
Titan GG318l-4H 4 Button Linear MegaCode Compatible Keychain Remote w/HID Prox Inside
The Titan model GG318L-4H is compatible with all 318 MHz Linear MegaCode radio receivers. The GG318L-4H also has a built-in proximity chip for use on HID 125 KHz and compatible card readers. These remotes also come supplied with a 12-volt battery and keychain. All Titan models come with a Lifetime Warranty.
Compatible with all Linear MegaCode and Moore-O-Matic 318 MHz garage and gate receivers with a smart "learn button" and other 318 MHz Wiegand receivers
Built In Prox Reader Coil Works on HID Prox Card Readers
Block Coded With Individual Serial Numbers
26 Bit Wiegand
Product Description
The Titan model GG318L-4H is a keychain remote compatible with 318 MHz Linear MegaCode receivers and garages. These also feature a built in HID reader chip for card reader access as well. Each remote has an individual serial numbers and are a 26 Bit Wiegand format. The Titan remotes are made by RCS (Remote Control Solutions) with quality parts. These remotes are commonly used on gates and/or garages plus additional card reader access. The Titan remotes are a modern attractive design and come with a high-quality keychain included. The GG318L-4H also comes with a 12-volt battery. With the perfect combination of low cost, long battery life and a Lifetime Warranty, the Titan GG318L-4H is the ideal choice for your 318 MHz MegaCode compatible gate and garage remote needs.
Same as RCS 318ctyl4
Compatible with all 318 MHz Linear MegaCode and Moore-O-Matic garage and gate receivers with a smart "learn button" and other 318 MHz Wiegand receivers
Built In Proximity Coil Works on HID and compatible Card Readers
Remotes Have Individual Serial Numbers
26 Bit Wiegand
FCC ID: TG6RCS-318CTYL4
Sleek Modern Design
12v Battery Included