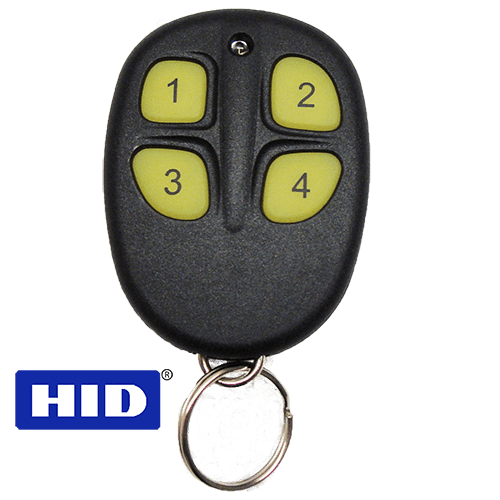 Titan MegaCode Compatible w/HID
$28.10
Titan GG318l-4-H 4 Button Linear MegaCode Compatible Keychain Remote w/HID Prox Inside
The Titan model GG318L-4-H is compatible with all 318 MHz Linear MegaCode radio receivers. The GG318L-4-H also has a built-in proximity chip for use on HID 125 KHz and compatible card readers. These remotes also come supplied with a 12-volt battery and keychain. All Titan models come with a Lifetime Warranty.
Compatible with all Linear MegaCode and Moore-O-Matic 318 MHz garage and gate receivers with a smart "learn button" and other 318 MHz Wiegand receivers
Built In Prox Reader Coil Works on HID Prox Card Readers
RCS Model RCS-318CTYL4/H
26 Bit Wiegand
Product Description
The Titan model GG318L-4-H is a keychain remote compatible with 318 MHz Linear MegaCode receivers and garages. These also feature a built in HID reader chip for card reader access as well. Each remote has an individual serial numbers and are a 26 Bit Wiegand format. The Titan remotes are made by RCS (Remote Control Solutions), also known as RCS model RCS-318CTYL4/H. These remotes are commonly used on gates and/or garages plus additional card reader access. The Titan remotes are a modern attractive design and come with a high-quality keychain included. The GG318L-4-H also comes with a 12-volt battery. With the perfect combination of low cost, long battery life and a Lifetime Warranty, the Titan GG318L-4-H is the ideal choice for your 318 MHz MegaCode compatible gate and garage remote needs.
Same as RCS-318ctyl4/h
Compatible with all 318 MHz Linear MegaCode and Moore-O-Matic garage and gate receivers with a smart "learn button" and other 318 MHz Wiegand receivers
Built In Proximity Coil Works on HID and compatible Card Readers
Compatible with Linear MegaCode Remote Model ACT-34DH
Remotes Have Individual Serial Numbers
26 Bit Wiegand
FCC ID: TG6RCS-318CTYL4
Sleek Modern Design
12v Battery Included