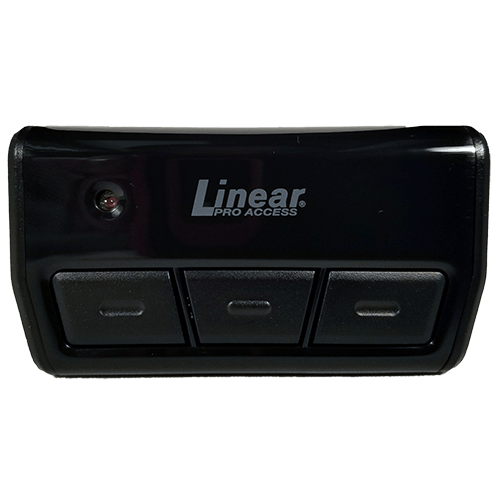 Linear MegaCode 3 Button
Discontinued
Linear MegaCode MTR3 Three-Button Visor Remote
The Linear MTR3 is a 3-button visor style remote that operates at 318 MHz and is compatible with Linear garage operators and radio receivers with a smart "Learn Button". You can mount the remote to your car visor vertically or horizontally.
Compatible with 318 MHz Linear MegaCode and Moore-O-Matic Garage & Gate Receivers with a "Learn Button"
This Product is NOT Block Coded
3-Volt Battery and Visor Clip Included
THIS ITEM HAS BEEN DISCONTINUED BY THE MANUFACTURER. Use Part Number MTS3 as a replacement (click here)
Special Order: Lead time 1-2 weeks to our warehouse
SKU: mtr3
Product Description
The Linear MTR3 is a three-button visor style transmitter. These remotes transmit at 318 MHz and are compatible with Linear garage operator motors and Linear external receivers that program with a "Smart Learn" button. The MTR3 has a new, modern design that fits on most car visors either vertically or horizontally. With over a million random codes, the MTR-3 remote codes are never duplicated. These transmitters come supplied with a 3-volt lithium battery and visor clip. Linear remotes are made from high quality parts and come with a one-year manufacturer warranty.
Compatible with ALL 318MHz Linear & Moore-O-Matic Garage and Gate Receivers with a Smart "Learn Button"
This Product is NOT Block Coded
Linear Part #MTR3, Model: MTR3
FCC ID: I6H-318MT
Visor Clip Can Mount Vertically or Horizontally
3v Battery and Visor Clip Included
12 Month Factory Warranty