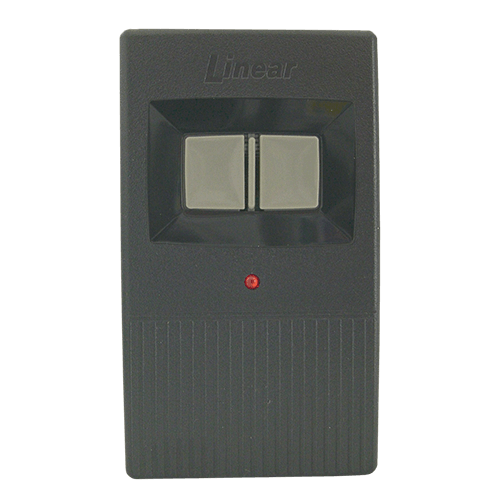 Linear MegaCode 2 Button
$32.05
Linear MegaCode MT-2B 2 Button Visor Remote
The Linear MT-2B is a dual button visor style remote that operates at 318 MHz and is compatible with Linear garage motors and radio receivers with a smart "Learn Button". The MT2B is Block Coded with external serial numbers for use in computer-controlled systems and stand-alone receivers requiring serial number enrollment.
Compatible with 318 MHz Linear Garages and Receivers with a Smart "Learn Button"
This Remote is Block Coded for Use in Computer-Controlled Systems & Receivers Requiring Serial Numbers for Activation
9-Volt Battery and Visor Clip Included
Product Description
The Linear MT-2B is a two-button visor style remote control. These transmitters operate at 318 MHz and work with Linear MegaCode garage operators with Smart Learn buttons and compatible external receivers. The MT2B is Block Coded with serial numbers. You can use the external serial numbers to activate the remote in a computer-based system or a stand-alone receiver that requires serial numbers for enrollment. This remote comes with a 9-volt battery and a visor clip. Linear transmitters are made with quality components and come with a one-year factory warranty.
Works with 318 MHz Linear Garage Motors and Linear Receivers with a Smart "Learn Button"
This Remote is Block Coded for Use in Computer Controlled Systems
Linear Part Number: ACP00746, Model: MT-2B
FCC ID: EF4 ACP00729
9-Volt Battery and Visor Clip Included
12 Month Factory Warranty