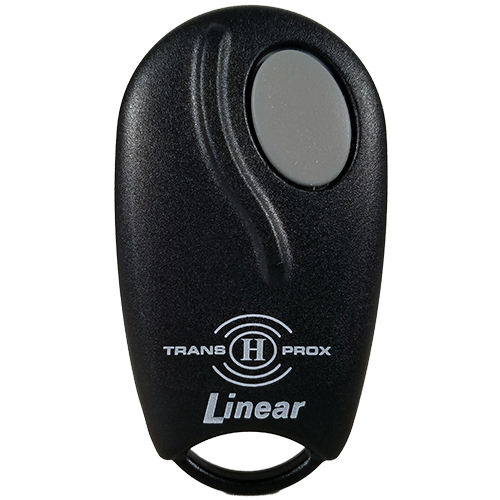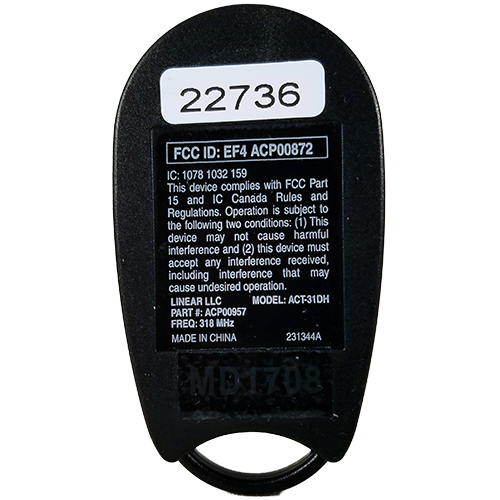 Linear MegaCode 1 Button w/HID Proximity
$34.55
Linear MegaCode ACT-31DH 1 Button Keychain Remote w/HID Proximity Built In
The ACT-31DH is a one-button keychain style remote. This remote is compatible with 318 MHz MegaCode and compatible receivers. The ACT31DH also features a built-in proximity chip for use on HID 125KHz and compatible card readers.
Compatible with All 318 MHz Linear & Moore-O-Matic Garage Operators with a "Smart Learn" Button
Works with Linear MegaCode and Compatible Wiegand Radio Receivers
HID Prox Coil Built in For Card Reader Access
Product Description
The Linear ACT-31DH is a single button keychain remote with a built in HID proximity chip for additional card reader access. These remotes operate at 318 MHz and features Linear's MegaCode technology. Each remote is coded with an individual serial number. The HID proximity chip works on HID and compatible card readers. The ACT31DH also works with MegaCode and compatible Wiegand radio receivers. The button features a 10-second time out function to prevent the remote from continuously transmitting if it gets stuck. This transmitter comes supplied with two cr2016 batteries and a quick-disconnect key chain. Linear remotes are made with quality materials and come with a one-year factory warranty.
Compatible with 318 MHz Linear and Moore-O-Matic Garage and Gate Receivers with a Smart "Learn Button"
HID Proximity Chip Inside for Use on HID 125 KHz and Compatible Access Card Readers
Block Coded with Individual Serial Numbers
Part: ACP00957, Model: ACT-31DH
FCC ID: EF4 ACP00872
3v Batteries & Keychain Included
12 Month Factory Warranty