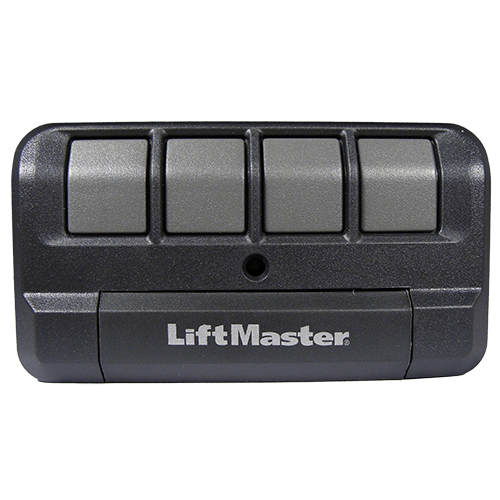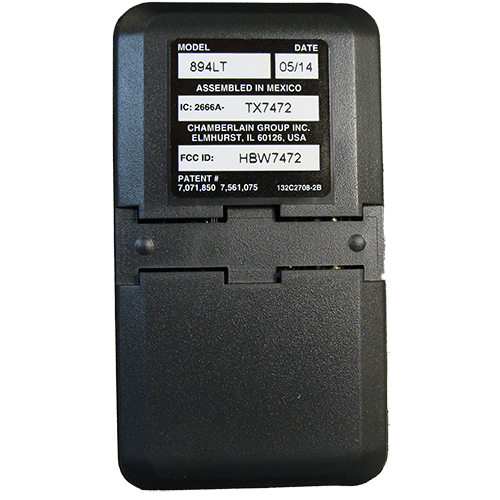 Liftmaster 4 Button Visor
$43.85
Liftmaster 894LT 4 Button Visor Remote
The Liftmaster 894LT works with ALL Liftmaster, Chamberlain, Raynor, Sears Craftsman, AccessMaster and Master Mechanic garage operators from 1993-present that program with a "Smart Learn" button. The 894LT can also directly learn fixed dip switch codes from Liftmaster dip-switch transmitters.
Works with ALL Chamberlain, Liftmaster, Sears/Craftsman, Raynor, Master Mechanic & Access Master Garage Openers with Yellow, Purple. Amber, Orange, Red & Green Learn Buttons
This Remote Can "Learn" the Dip Switch Code Directly from Any Liftmaster Dip Switch Model Remote
Direct Replacement for Discontinued Models 84LM, 974LM & 374LM
Product Description
The Liftmaster 894LT is a four-button visor style remote. This unique transmitter features the ability to program directly to any Chamberlain, Liftmaster, Raynor, Master Mechanic, Sears Craftsman and/or Access Master garage opener made from 1993-present with a Yellow, Purple, Amber, Orange, Red or Green learn button. The 894LT can also learn dip switch codes directly from 361LM, 61LM or 811LM dip switch style gate/garage transmitters. This remote allows you to consolidate your Liftmaster garage remote and dip switch community gate remote into one convenient unit. This remote replaces older Liftmaster 4 button models 84LM, 974LM and 374LM. Liftmaster remotes are made with quality parts and come with a one-year warranty.
Works with ALL Chamberlain/Liftmaster Learn Button Colors Including Yellow (310/315/390 MHz Security+ 2.0), Purple (315 MHz Security+), Red/Amber/Orange (390 MHz Security+) & Green (390 MHz Billion Code)
This Remote Can "Learn" the Dip Switch Code Directly from Any Liftmaster Dip Switch Model Remote Including: 61LM, 62LM, 63LM, 64LM, 331LM, 361LM, 362LM, 363LM, 333LM, 811LM & 813LM
Direct Replacement for Discontinued Models 84LM, 974LM & 374LM
FCC ID: HBW7472
Includes AAA Battery & Visor Clip
One-Year Warranty