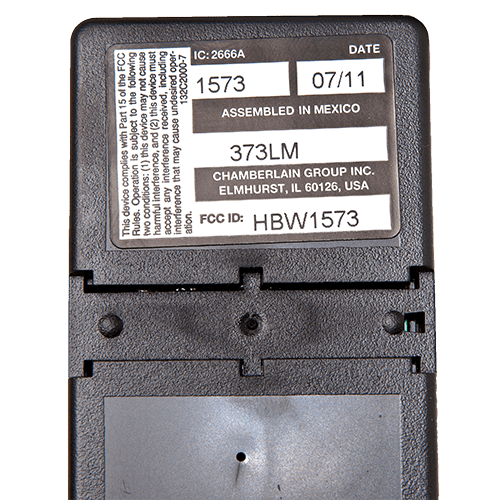 Liftmaster 3 Button Visor
$39.45
Liftmaster 373LM Three Button Visor Remote 315 MHz
The Liftmaster three button model 373LM transmits at 315MHz. 373LM remote controls will work with Liftmaster, Raynor, Sears/Craftsman, Chamberlain, AccessMaster and other Chamberlain manufactured garage operators with a Purple smart learn button.
Works with All Liftmaster, Chamberlain, AccessMaster, Master Mechanic, Raynor, Sears and Craftsman Models with a PURPLE Smart Learn Button
3v Battery and Visor Clip Included
Product Description
The Liftmaster 373LM is a three-button visor style remote. These broadcast at 315 MHz and feature Liftmaster's encrypted Security+ encryption technology. 373LM remotes will work with Liftmaster, Access Master, Chamberlain, Sears/Craftsman, Raynor, and other Chamberlain made garage operators with a Purple smart learn button. The three buttons can be used to control multiple garages or set to other functions such as a light or vacation lock in certain Liftmaster garage models. Liftmaster transmitters are made with quality materials and come with a one-year manufacturer warranty. These remotes come with a 3-volt lithium battery and visor clip.
Works with All Liftmaster, Raynor, Chamberlain, Access Master, Master Mechanic, Sears and Craftsman Models with a PURPLE Smart Learn Button
Compatible with: Liftmaster 373P, 370LM, 372LM, 371LM, 374LM
FCC ID: HBW1573
3v Battery and Visor Clip Included