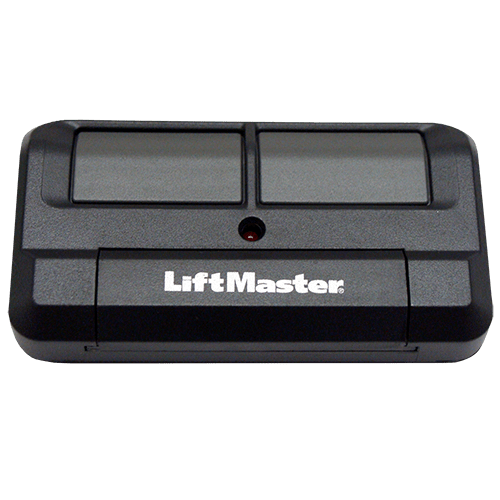 Liftmaster 2 Button Visor
$39.25
Liftmaster 892LT 2 Button Visor Remote
The Liftmaster 892LT works with ALL Chamberlain, Liftmaster, Raynor, Sears, Craftsman, Access Master and Master Mechanic garage operators from 1993-present that program with a "Smart Learn" button. The 892LT can also learn fixed dip switch codes from Liftmaster dip-switch transmitters directly.
Works with ALL Liftmaster, Chamberlain, Sears/Craftsman, Raynor, Master Mechanic & AccessMaster Garage Openers with Green, Red, Orange, Amber, Purple and Yellow Learn Buttons
This Remote Can "Learn" the Dip Switch Code Directly from Any Liftmaster Dip Switch Model Remote
Direct Replacement for Discontinued Models 82LM, 972LM & 372LM
Product Description
The Liftmaster 892LT is a 2-button visor style remote. This unique remote features the flexibility of programming directly to any Liftmaster, Chamberlain, Raynor, Master Mechanic, Sears Craftsman and/or AccessMaster garage operator made from 1993-present with a Yellow, Purple, Amber, Orange, Red or Green learn button. The 892LT can also learn fixed dip switch codes directly from 61LM, 361LM or 811LM dip switch style gate/garage remotes. This transmitter allows you to consolidate your Liftmaster garage remote and dip switch community gate remote into one convenient unit. This remote replaces older Liftmaster 2 button models 82LM, 972LM and 372LM. Liftmaster gate and garage remotes are made with quality parts and come with a one-year factory warranty.
Works with ALL Liftmaster/Chamberlain Learn Button Colors Including Green (390 MHz Billion Code), Red/Amber/Orange (390 MHz Security+), Purple (315 MHz Security+) & Yellow (310/315/390 MHz Security+ 2.0)
This Remote Can "Learn" the Dip Switch Code Directly from Any Liftmaster Dip Switch Model Remote Including: 61LM, 62LM, 63LM, 64LM, 331LM, 361LM, 362LM, 363LM, 333LM, 811LM & 813LM
Direct Replacement for Discontinued Models 82LM, 972LM & 372LM
FCC ID: HBW7472
AAA Battery & Visor Clip
One-Year Warranty