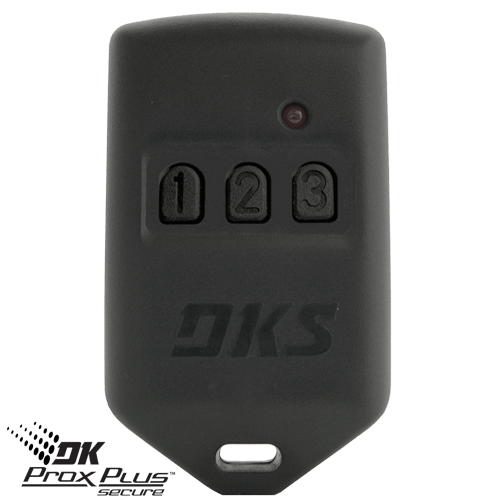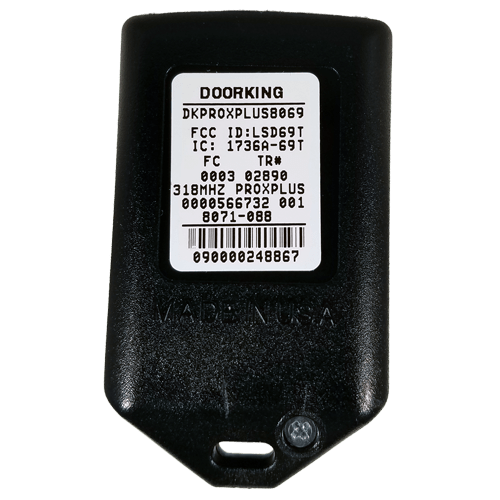 DoorKing MicroPlus w/ProxPlus Secure
Log in or Sign up to view price.
DoorKing 8071088-nn MicroPlus 3 Button Remote w/Prox Plus Secure Inside – STOCK FACILITY CODE & NUMBERS
The DoorKing MicroPlus three button model 8071088-nn is also known as 8071-088. These remotes transmit at 318 MHz frequency and feature a built-in DoorKing Prox Plus Secure 13.5 MHz Mifare coil for dual use with Prox Plus card/fob readers. They are compatible with DoorKing MicroPlus gate receivers. These ARE NOT compatible with the grey MicroClik models.
Compatible DoorKing MicroPlus Receivers & DoorKing Prox Plus Secure Card Readers Only
DoorKing Model 8071-088
Must Be Ordered In Groups Of 10
Stock Facility Code & Numbers
Product Description
The DoorKing MicroPlus 3 button model 8071088-nn, same as 8071-088, is a 26 Bit Wiegand gate remote with built-in Prox Plus Secure Mifare proximity. These transmitters operate at 318 MHz frequency and feature an encrypted rolling code technology. This technology provides the highest level of security available in RF remote controls. DoorKing does not share their MicroPlus encryption schemes with other manufacturers so their transmitter codes cannot be duplicated or copied. They are only compatible with DoorKing MicroPlus receivers. Called a PROXmtr, this version will also work on DoorKing ProxPlus Secure proximity card readers with the built-in 13.5 MHz Mifare prox coil. These ARE NOT compatible with the grey MicroClik models. These remotes are made from high quality parts and come with a 2-year warranty. MicroPlus remotes are a perfect blend of security and style with an attractive look. Stock numbers and facility codes. For specific serial numbers and facility code, use special order SKU 8071088-sn.
Compatible With 318 MHz DoorKing MicroPlus Receivers
Same as DoorKing Model 8071-088
Built-In DKProx Proximity Chip For Use On ProxPlus Secure Mifare Card Readers
Prox Coil Compatible With DoorKing Reader Models 1815-684, 1815-685 & 1815-692 Card Scanner
Must Be Ordered In Groups Of 10
Stock Facility Code & Numbers
Works with DoorKing Receiver Models 8056-080, 8040-080 & 8054 Series Receivers
FCC ID: LSD69T, IC: 1736A-69T
12v Battery Included
24 Month Factory Warranty